Hey cupcakes, I hope everyone is having an awesome day! :D I haven't done a post centered around perfumes/body sprays is quite some time on The Chic Cupcake, so I thought I would write a quick post about my
current
top 5 body sprays! Enjoy!
1. Pink Chiffon -
Bath and Body Works
This is my go-to scent because it smells super yummy but is also not overpowering. It allows me to smell nice all day without causing anyone to gag from too much scent :P
2. Viva La Juicy -
Juicy Couture
This is my fav perfume at the moment, and it just takes me back to my high school days. The scent is so girly, and I have the travel size (picture above) that also contains Viva La Juicy La Fleur. I think it is super nice to have two scents in one, so I can rock the everyday scent and then change it up when I'm going out for an evening! :)
3. Paris Amour -
Bath and Body Works
My boyfriend got me the whole Paris Amour set for Valentine's Day last year, and I have really been loving the scent recently! It wasn't my fav when I got it because it is quite florally, but I have been loving how it smells and wear it often (maybe I am hoping Spring will come sooner if I smell like flowers!).
4. Sweet & Flirty -
PINK
I've never actually been a fan of many Victoria Secret/PINK perfumes, but I love this one at the moment! I really enjoy fruity/sugary scents, and this one is subtle but delicious at the same time! Plus, it is quite affordable for a quality body spray!
5. Strawberry Splash -
Simple Pleasures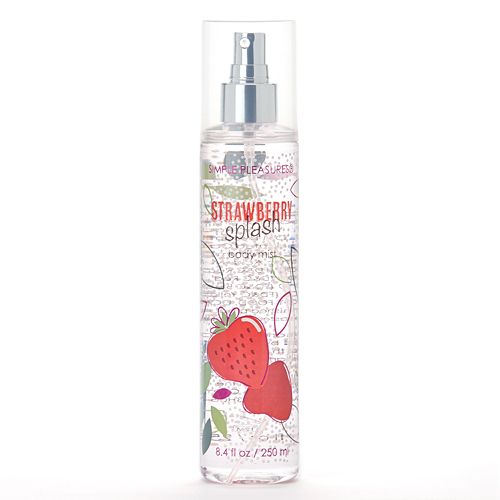 If you enjoy more natural/subtle fragrances (like me!), check out Kohls!!! They have a line called Simple Pleasures with scents like vanilla, different fruits, cucumber melon, etc. I adored these in high school, and I still love them! They have very fresh scents and are perfect for everyday wear! <3
What are your current scent obsessions?
Comment below and don't forget to follow! <3 I love you all! <3