Hey cupcakes! During my college's Welcome Week, the local grocery store had a fun event with free things, coupons, etc.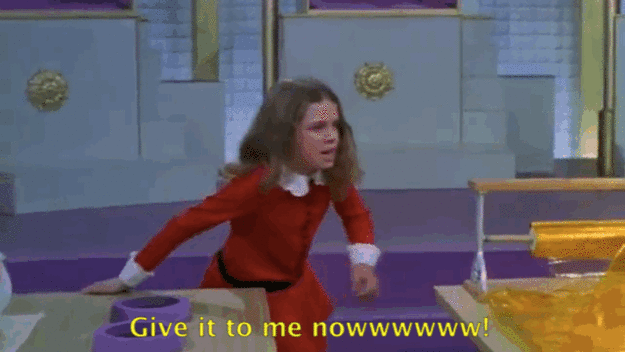 Me when anything is free :P
I, of course, just HAD to scope out the deals, so my friends and I decided to check it out! :D As well as getting some free food and samples, I was sucked into the food aisles and found this: a muffin you make in the freakin' microwave!
It was only $1.99 so how could I not buy it? There were a few different flavors, but I bought the Pumpkin Dark Chocolate one (so I could bring in the fall-time of course!).
A few days after this interesting product sat in my dorm room, I decided to do some research. I found the company's
website
, and THEY WERE ON SHARK TANK! Hmmmm (I thought to myself), maybe they are actually good then!
The next night I was feeling hungry, and I thought it would be the perfect time to try it out! :P To cook the muffin you need to add 1/4 cup of water (or since I don't have measuring cups in my dorm you can measure 2 ounces from a water bottle), stir until combined (it looks exactly like cake batter), and then bake in the microwave for only 1 minute.
When I took the muffin out of the microwave, my mind was literally blown. It actually puffed up like a muffin! :O
And you know what guys?! IT TASTED AMAZING! I have never been more impressed by something cooked in a microwave. This flavor of muffin tasted just like my favorite pumpkin chocolate chip cookies, and it was the perfect amount of food to fill my little tummy. Plus, the texture was exactly like a muffin! :) I would totally recommend buying these for a quick breakfast if you are in a rush, and I can't wait to stock up on these once I get back to the store! <3
What is your favorite type of muffin?
Comment below and don't forget to follow! :)