Hey cupcakes! As many of you gals may know, FOX recently performed a Live version of the musical Grease! I was super duper excited to watch it (since Grease is one of my fav musicals!), so I thought I would let you know my thoughts after watching the whole thing... Let's get started!
What I Liked About the Show
Overall, I thought the show was great! It wasn't just another remake of the movie everyone knows and loves, and I thought it was the perfect mixture between the actual musical script and the movie. I also really enjoyed the new unique things they added in :) The choreography was so stunning, and the costume changes were beyond perfect (they even had magnetic costumes for costume changes that lasted a few second - AMAZING!)! Some of my favorite characters included:
1. Patty (played by Elle Lemore)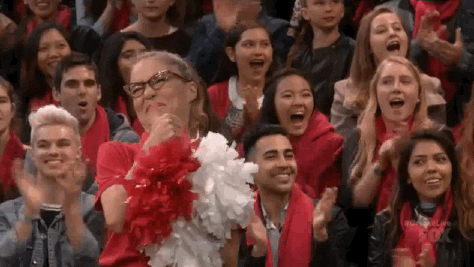 2. Blanche (played by Haneefah Wood) - so hilarious omg
3. Marty (played by Keke Palmer)
These were probably my top three characters, but
ALL
of the actors/actresses were actually amazing! I really enjoyed how they picked less mainstream people who are still super talented! I also loved how they added old Frenchy and new Frenchy into the same scene... The feels! <3
Last but not least, my favorite scene by far was Greased Lightning! ;)
Honestly, if you haven't watched Grease Live yet, I really recommend it!
What I Didn't Like About the Show
Being a live show, they had a few mistakes (like the sound issue during the hand jive).. But that makes it more like a stage show, so it personally didn't bother me :D Some of the scenes were cheesy (like the race scene which looked so hilariously fake), but Grease is kinda supposed to be a cheesy musical. I loved it all! :P
Final Thoughts
If you haven't already, GO WATCH GREASE LIVE! It blew Sound of Music: Live and Peter Pan: Live out of the water by a tonnnn! Grease is totally the word! <3
What did you think about Grease Live?
Comment below and don't forget to follow! :D